In today's customer-driven economy, customer experience (CX) is one of the key features to achieve prominence as a brand. Apparently, as customer service has to manage most of the customer-company interaction across different touch points, it's an essential aspect of the customer experience strategy.
To ensure every interaction leads to happy customers, it's necessary to have a proficient staff that can handle all types of customer issues with ease. It can be achieved by imparting appropriate and continuous training to the service personnel who interact with the customers. Here are few tips that can be used to boost the customer service training at contact centers to achieve better results.
Practical Coursework
Every organization has a unique customer service process, which has its own set of KPIs (Key Performing Indicators) and guidelines. New employees getting trained usually have to go through a comprehensive list of topics to understand the process. However, most of the coursework is inadvertently hypothetical.
While there might be an effort to make the knowledge sessions interactive through audio-visual content, it still may not be enough. The idea should be to get the trainees acquire a practical awareness that will help them find the best way to bridge the gap between the knowledge and its application.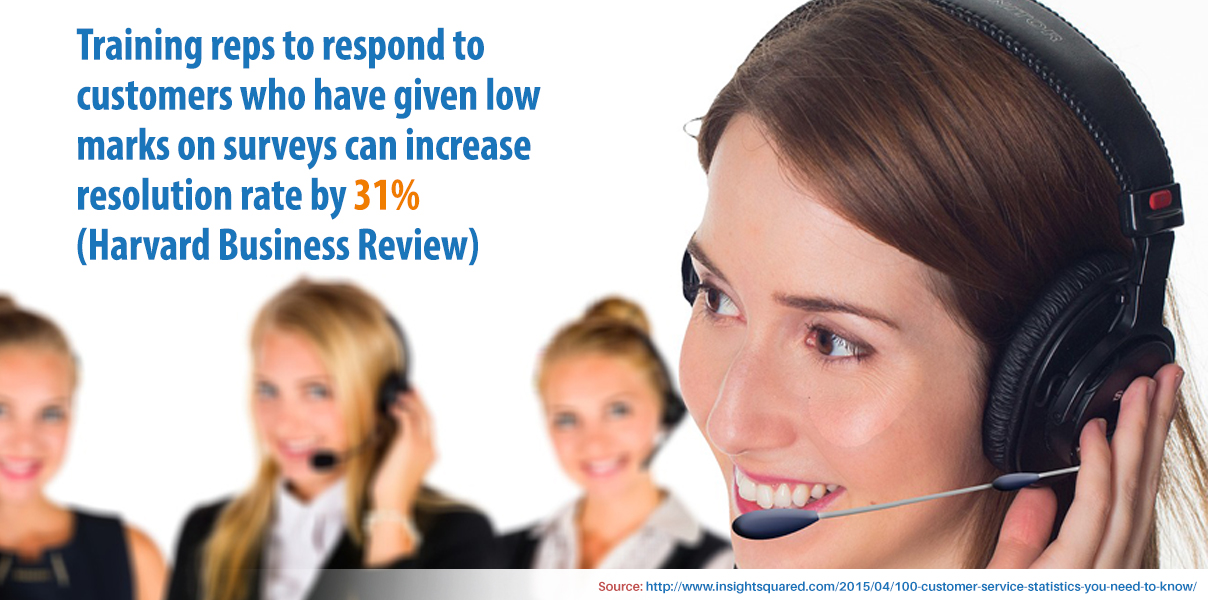 One of the ways to achieve this is to have some of the top performers to join them. Along with their energy and passion, the seasoned professionals can also share some practical tips, which they use to solve actual issues on the production floor. This would not just help in adding a sense of pragmatism to the coursework but also help in building motivation among the trainees.
The training framework for a contact center has to focus on achieving first-call resolutions (FCR). As customers always wish to get the solutions to their issue as quickly as possible, a FCR not only ensures a high level of customer satisfaction but also helps the company in reducing cost. It's because, it prevents repeated calls from customers, which reduces the overall workload. In turn, the show can be managed with a limited number of personnel, which explicitly brings down the cost spent on additional resources.
Hence, it makes sense for a training course curriculum to explicitly focus on FCR initiatives that include a comprehensive mix of product and process knowledge, complaint management and compliance adherence techniques. Trainees who are able to achieve FCR on mock calls should be awarded special incentives to achieve the feat to emphasize on it.
Personalized Sessions
It should be noted that every trainee would have a different level of knowledge and grasping power. Hence, the casework, as well as the training process, needs to be personalized to match the needs of each trainee's learning curve. While it might seem difficult, it can actually be easier to group them based on knowledge levels and the learning mechanisms they prefer.
While some may prefer to learn through audio-visual aids, also known as spatial and aural learning, others might like the kinesthetic method, which involves the simulation of the real process. By having the right mix of these techniques, the sessions can deliver much more personalized learning, making every fresher feel much more competent and confident when they enter the production floor.
Casual Discussions
Sometimes the amount the process knowledge and the complexity of the training curriculum can get overwhelming for the neophytes. A bit of casual discussion on general hot topics can help in getting everyone to relax and unwind. Also, the trainers should try and maintain a cheerful environment that makes everyone feel relaxed, yet stay focused.
Having a time-out at the end of sessions can also allow the trainees to gel with each other, leading to better bonding. This can also help propagate a culture of teamwork and collaboration.
On Job Training
The new employees may try their best to retain everything they learnt as much as possible. However, once they hit the production floor, there's usually a gap between the management's expectations and their performance. To address these gaps, new employees should be allowed to spend sufficient time on the floor and observe the seniors handle the calls in real time. They should also be allowed to barge into live calls, if possible; which is usually known as the budding technique.
Subsequently, the greenhorns should be encouraged to handle calls that are usually considered easier, with a senior to assist and guide them in the case they need urgent help. Furthermore, training them to access the manuals and knowledge-guides is an important step to make them self-reliant. At the end, their performance should be assessed to identify their mistakes, and the loopholes should be covered through regular speed-training sessions.
In addition, the new reps can also be provided with sales training and can be given extra incentives for successful cross-selling and up-selling efforts. Also, top- performing agents can be kept motivated by being encouraged to take up additional responsibilities of training others on product and process related issues, paving their way for promotion to the next level.