Not all users visiting your website make a voluntary effort to reach out to seek what they want. It's you who has to motivate them and engage them to interact. Having a contact center service that proactively initiates a conversation with your website visitors is an ideal way to maximize the opportunities of converting prospective customers. As everyone likes to be accorded special attention, a communication that is proactively initiated by you has a high chance of being perceived positively by the visitors. You also have a chance to motivate them to try out your offerings, which could result in an instant sale.
A custom chat invitation with an exciting idea is one of the ideal ways of starting a conversation with your potential customers who visit your site. The proactive live chat can be used efficiently by online businesses, especially eCommerce portals, to gain more customers. It's because a live chat reduces the sense of risk for your visitors by allowing you to provide reassurance. This way, you can even add a sense of value to your offerings.
Discussed here are some of the tips that would not only help you create a worthy impression on new visitors but also help you in keeping your existing customers happy using the proactive chat.
Predefined Messaging
It's important to greet your customers with courtesy and also maintain a professional decorum during the conversation. For this, the agents have to be thoroughly trained, which will help them respond appropriately to the customer queries. However, most customers have common queries, and you can enable your agents to optimize their activity by helping them to create predefined messages. In some cases, you can even encourage them to use automated pre-canned messages. However, the agents should be cautioned against overusing them or else the customers might feel that they're chatting to a machine.
Avoiding Constant Reminders
While it's your responsibility to help the users visiting your site, and a proactive chat invitation can help you do that, however, not all of them are amused by it. In such case, the user must be given the option to close the chat box. Also, the window must pop only after the user has spent some amount of time exploring your site. A chat window appearing as soon as the users land on your site and refusing to be closed or giving constant reminders can only leave them annoyed.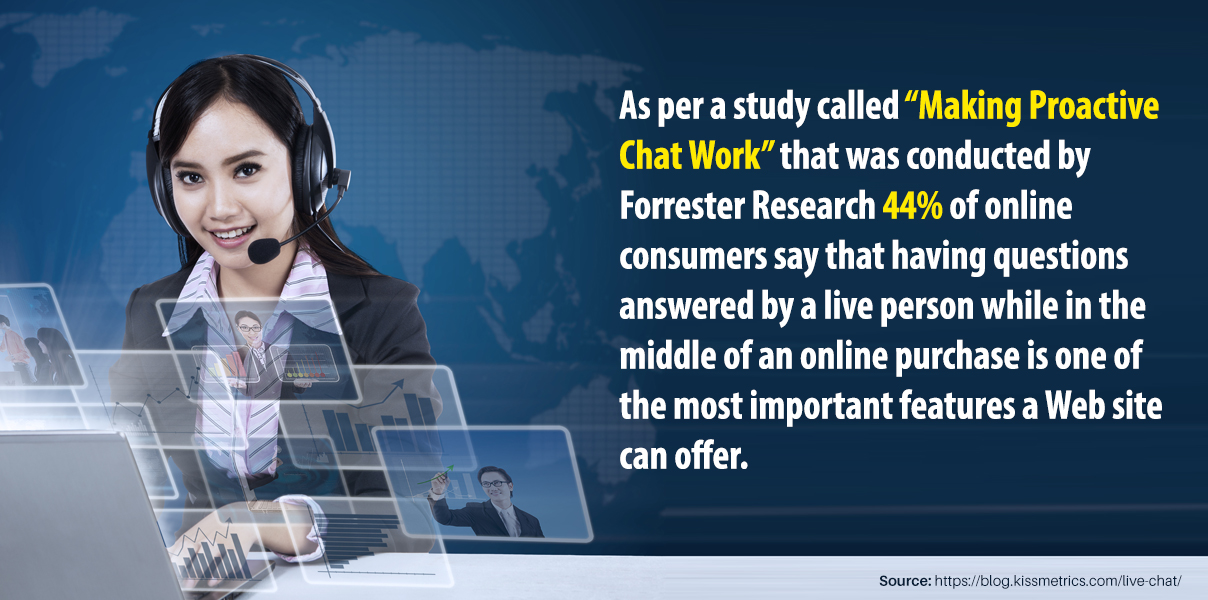 Deploying a typing indicator
During peak hours, your agents would be handling multiple conversations simultaneously. You can help them by deploying a typing indicator that lets them view what customers are typing even before they hit the 'Send' button or the Enter key. Apparently, as agents get an insight on the customer's query, they would be able to respond more quickly with an appropriate answer. A quick response would keep the customers interested all through the chat and even help your agents to multitask efficiently.
Audio-Visual Alerting
When the visitors hit the send" button during the chat, the agent should be notified through an alert that is either audible, visible or both. As agents would be busy handling multiple chats, an alerting system can spare them from manually checking all the chat windows. A pop-up sound or a flash that goes up instantly can remind the agent to focus on it instantly, and avoid a situation where a conversation gets abandoned by the customer due to delay in response.
Optimizing chat transfers
Having a team of agents with each member having a unique domain expertise can be helpful when handling complex queries. However, this requires an agent to transfer the chat to a specialist if the query is outside his or her domain. Hence, all agents must be thoroughly trained to transfer the chat session with ease, and with minimum delay. To ensure this, each agent must have an updated list of all other agents and their levels of expertise. Moreover, the customer has to be kept aware of the transfer, and proper courtesy etiquettes have to be followed.
Analyzing Visitor Data
To make your pro-active chat more effective, you need to know your customers in advance. This might be difficult to achieve for a new customer, but, analyzing the data of the existing customers from their chat history can prove to be quite beneficial. If they come back and refer to their previous conversations, the agent being able to view their previous chat transcripts will be in a much better position to help them out. Moreover, the customer data can also be used to derive rich resource for a marketing campaign.
When handled effectively, proactive live chat can help in boosting the sales figures as well as enhancing the customer experience. Moreover, it can serve as a competitive advantage, as customers who are instantly attended by an agent are less likely to leave and buy from the competitors who do not have a proactive live chat.