The advent of globalization has led to a surge in the growth of the outsourcing market. While many operational functions are outsourced by organizations, the most common of them include Finance and Accounting services like Payroll, Financial analysis, and Bookkeeping. This is because, in the highly competitive market, companies tend to give more emphasis on finance and accounting outsourcing (FAO), as it helps them in standardizing and streamlining the F&A functions internally and also minimize the costs. Moreover, the complex nature of the accounting processes requires an organization to outsource a substantial part of their F&A operations to leverage maximum benefits. This helps them to save heavily on upfront costs like staffing and infrastructure. Subsequent costs like training and development can also be a drain on capital. Outsourcing helps companies to altogether avoid these expenses and save a considerable amount of operating costs.
The factors that usually dominate the agenda of CFOs are revenue maximization, along with prominent cost reduction. Also, streamlining of processes is one of the primary objectives of senior management. Most CFOs specifically consider outsourcing accounting services because slow and inefficient F&A management leads to a dearth of performance and growth. They are always looking for quality services at low-cost from their outsourcing partners that can drive efficiency in their F&A functions. Discussed are few of the many more advantages that organizations seek when considering outsourcing their F&A services.
Reduction in Cost– Organizations usually believe the burgeoning cost of financial functions, which they are unable to forecast, as the primary cause of operational costs going beyond the budget. They have come to accept the fact that is it too intricate to calculate the cost aspects of F&A functions in the early stages of the business. This has led to a wide-spread conviction of going for outsourced F&A processes to improve business productivity and reduced operating costs.
Attention on Core Competency: By awarding the non-core business to the firms that specialize in it, organizations can optimize their primary business structures and make them fully functional. Being relieved from the additional tasks decreases the absorption of resources and helps them focus on the core functions of their primary business. The extra time and efforts spent on these critical functions can drive value in the overall operations and enhance the organization's core competency.
Flexibility of operations: Externalizing processes allows SMBs and startups to create a business strategy that is cost-efficient and flexible. With impetus on growth, the outsourced F&A give them access to the vast talent pool from the vendors. This gives them the leverage to execute scale up plans efficiently and seamlessly. Also, it helps the startups to ramp-down their finance and accounting functions if needed and also lets them streamline their operations successfully.
Adherence to Deadlines: In addition to the quality service from the vendor, outsourcing of F&A helps the organization with quicker turn-around time. While it gives them the comfort of meeting their operational goals within the deadline, the advanced resources available with the vendors to deliver standardized services also help outsourcing companies in maximizing the operational efficiency. This can boost their overall performance and can accelerate them towards growth.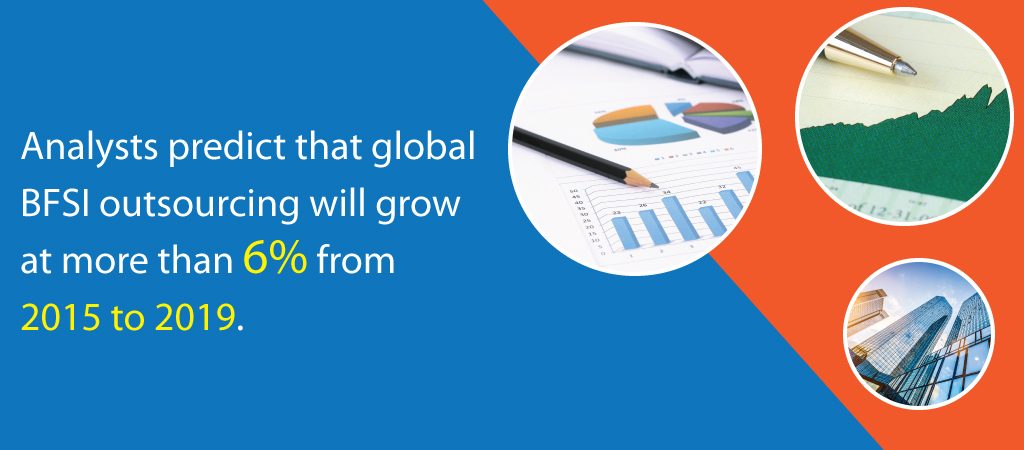 While these are the primary advantages that drive enterprises to FAO consideration, there are various other minor factors that supplement the need. For instance, when it comes to offshore outsourcing, fluctuating values of foreign-exchange is one of the insignificant factors which explicitly can act in favor of the outsourcers. Organizations can also identify the savings through payment analysis and minimize risks through supplier consolidation. Moreover, automation of the processes can also help them to improve policy compliance. These are some of the essential and negligible aspects that make it enticing for organizations to outsource their F&A processes and garner the benefits.
Key Takeaways
Many companies tend to give more emphasis on outsourcing finance and accounting as they are non-core processes.
The complex nature of the accounting processes requires an organization to outsource a substantial part of their F&A operations to derive maximum benefits.
It has been analyzed that outsourced F&A processes improve business productivity and reduce operating costs.